DRIVER ASSISTANCE MODE
A customisable function that brings together four Driver Assistance features: Forward Collision Warning, Lane Assistance, Speed Limit Warning and Speed Limit Notification
EASY FUNCTIONALITY
Our latest steering wheels give you direct access to the new Driver Assistance Mode with the press of a button, while keeping your hands on the wheel. With each subsequent press, you can toggle between Low, Custom or High mode.


Your vehicle will always start in a set mode, this is market dependent.1†
THREE MODES
High – All four features are active in High mode. The Overspeed Warning and Change of Speed Limit Warning now have a new audible alert.


Custom – Select which of the four Driver Assistance features you want to make use of. Your preferences are stored in the system and will activate when you select Custom mode.


Low – In Low mode, only Forward Collision Warning is enabled.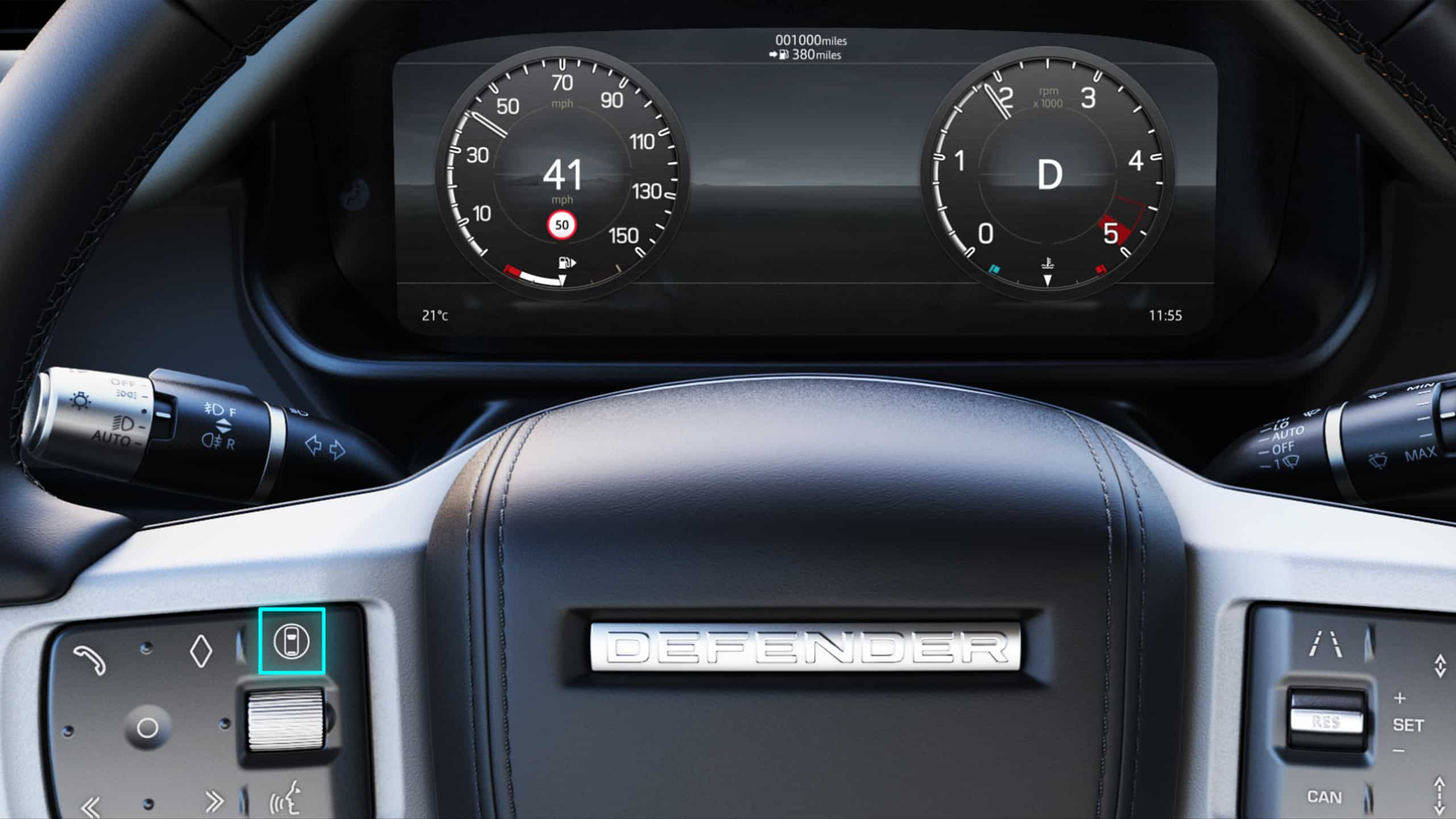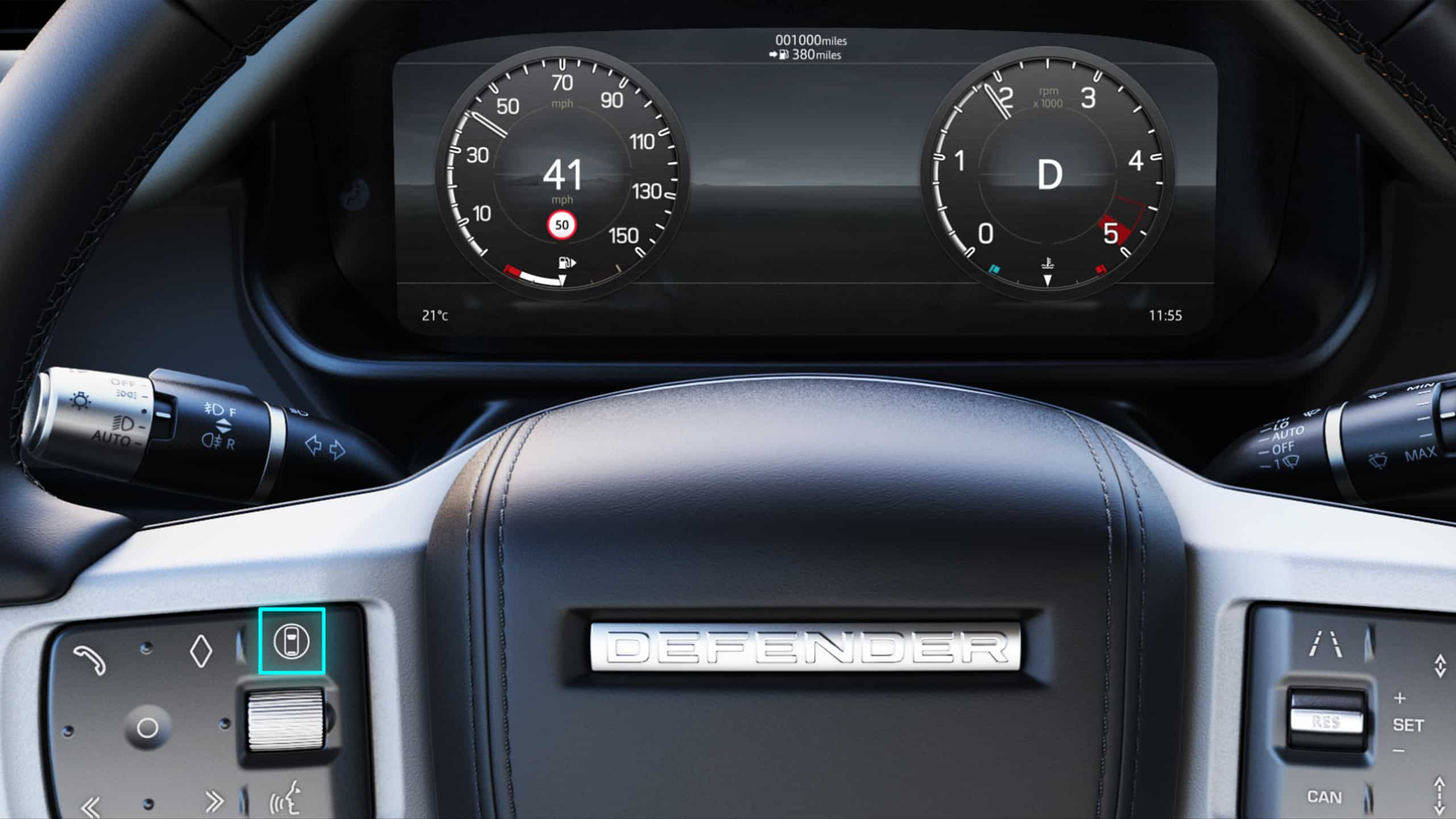 Autoplay Start
Autoplay Stop
DRIVING FEATURES
InControl includes standard and optional Driving Assistance features to help you make the most of your Land Rover, delivering the safest possible drive wherever you choose to go. Check with your retailer to discover the options that are best for you.
Set your cruising speed, and a distance to maintain from vehicles in front, so your vehicle adapts to slowing traffic automatically.
EMERGENCY BRAKING
Emergency Braking can help to prevent collisions with other vehicles, pedestrians or cycles. It displays a warning in the event of an imminent collision, and automatically applies the brakes if no action is taken.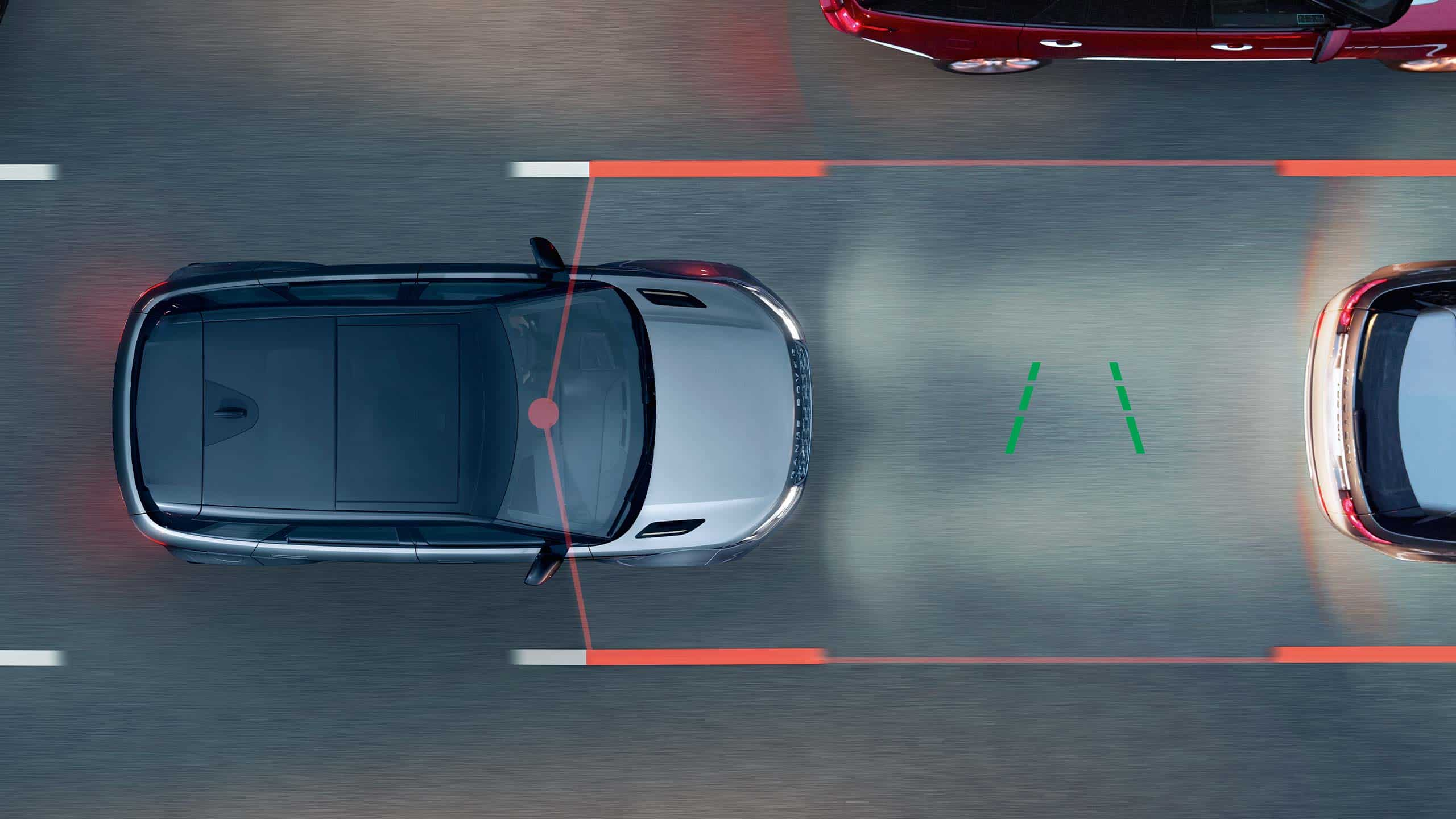 LANE KEEP ASSIST
Lane Keep Assist detects when your vehicle is unintentionally drifting out of your lane, and applies a corrective torque to the steering wheel, encouraging you to guide your vehicle back.
BLIND SPOT ASSIST
Blind Spot Assist2 helps you to change lanes more safely, illuminating a small warning light in the wing mirror if your vehicle detects another vehicle your blind spot. Additional steering correction encourages you to guide your vehicle away if a potential collision is detected.
TRAFFIC SIGN RECOGNITION WITH ADAPTIVE SPEED LIMITER
Clearly displays speed limits and 'no overtaking' signs on the instrument cluster or optional Head-up Display. When activated, Adaptive Speed Limiter uses Traffic Sign Recognition3 to adjust your vehicle's speed accordingly.
DRIVER CONDITION MONITOR
Driver Condition Monitor detects if you're starting to feel drowsy by monitoring steering inputs, brake and throttle pedal activity to give you an early warning when you need to take a break.
REAR COLLISION MONITOR
Rear Collision Monitor can detect if a vehicle approaching from behind is not slowing down and presents a potential collision threat. The system will then attempt to alert the driver to brake by automatically flashing the hazards lights.
PARKING FEATURES
Helping you manoeuvre your Land Rover into the tightest urban parking space. Check with your retailer to discover the options that are best for you.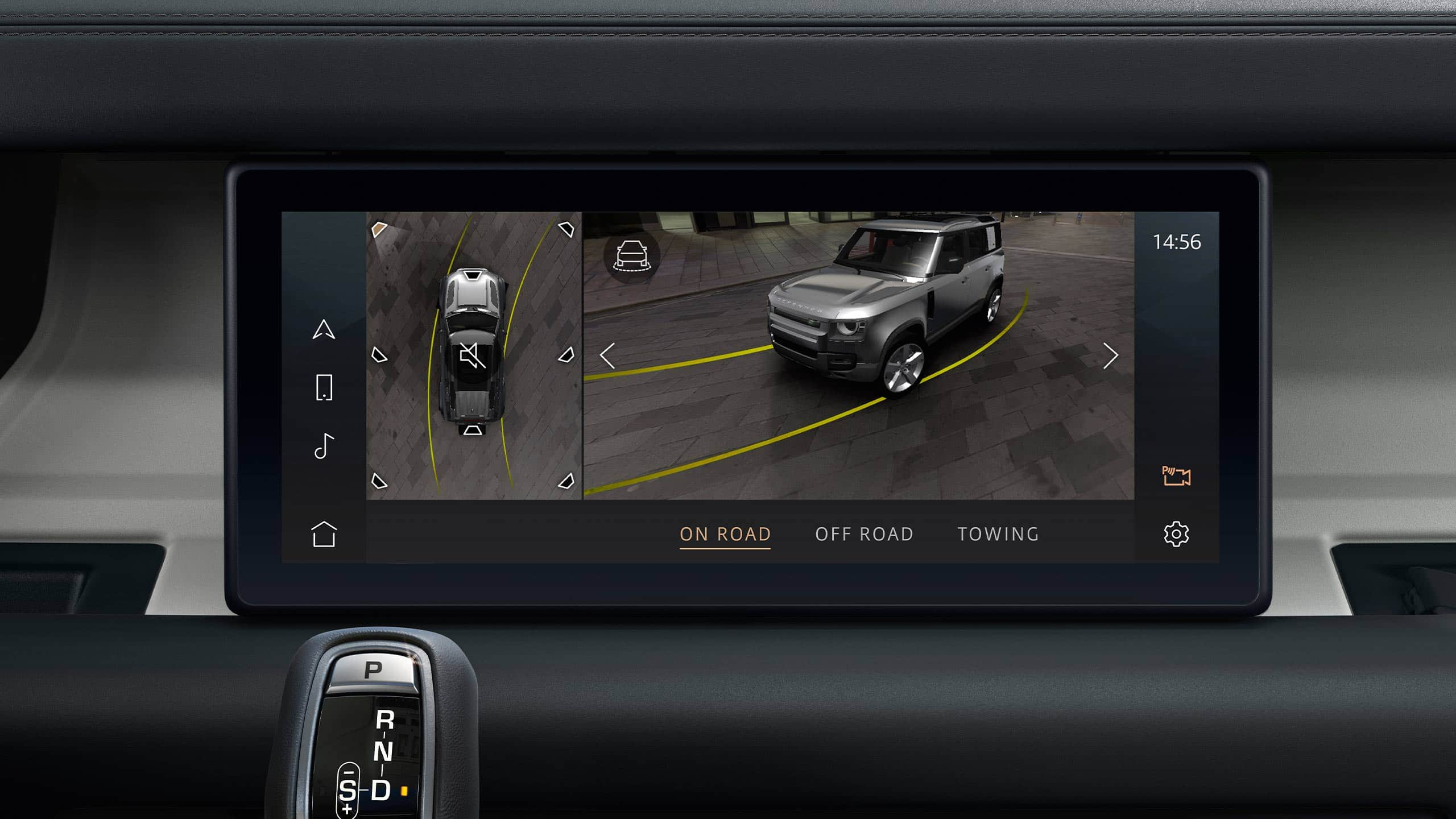 3D Surround Camera helps you see more. New 3D exterior perspectives alongside a 360° overhead view make manoeuvring easier, while off-road views including the innovative ClearSight Ground View provide you with confidence when scaling various terrains.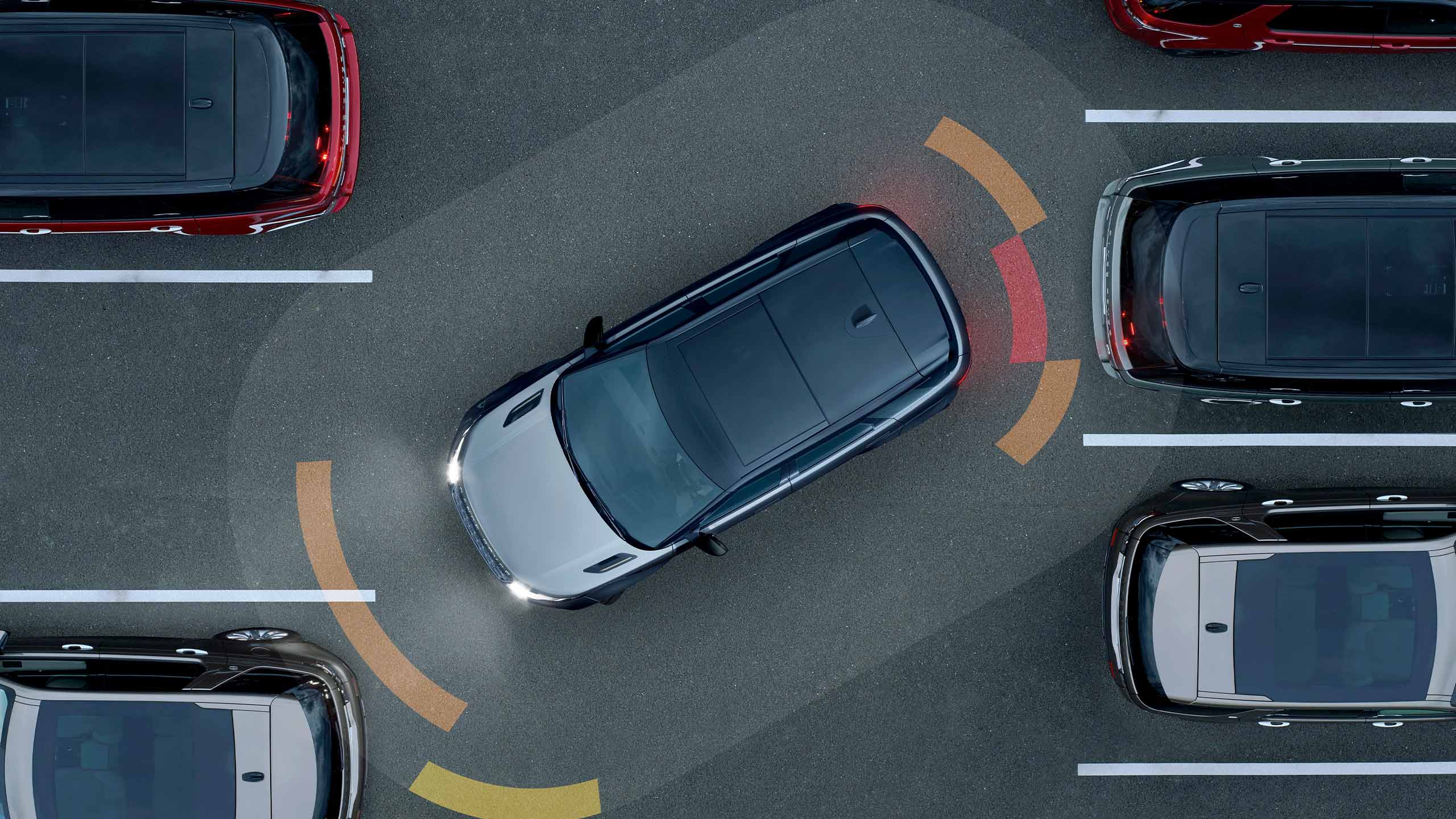 FRONT AND REAR PARKING AID
Makes manoeuvring even easier. Sensors located in the front and rear bumpers are activated manually, or when reverse is selected. As you park, the Touchscreen display and audio feedback indicates how close you are to obstacles.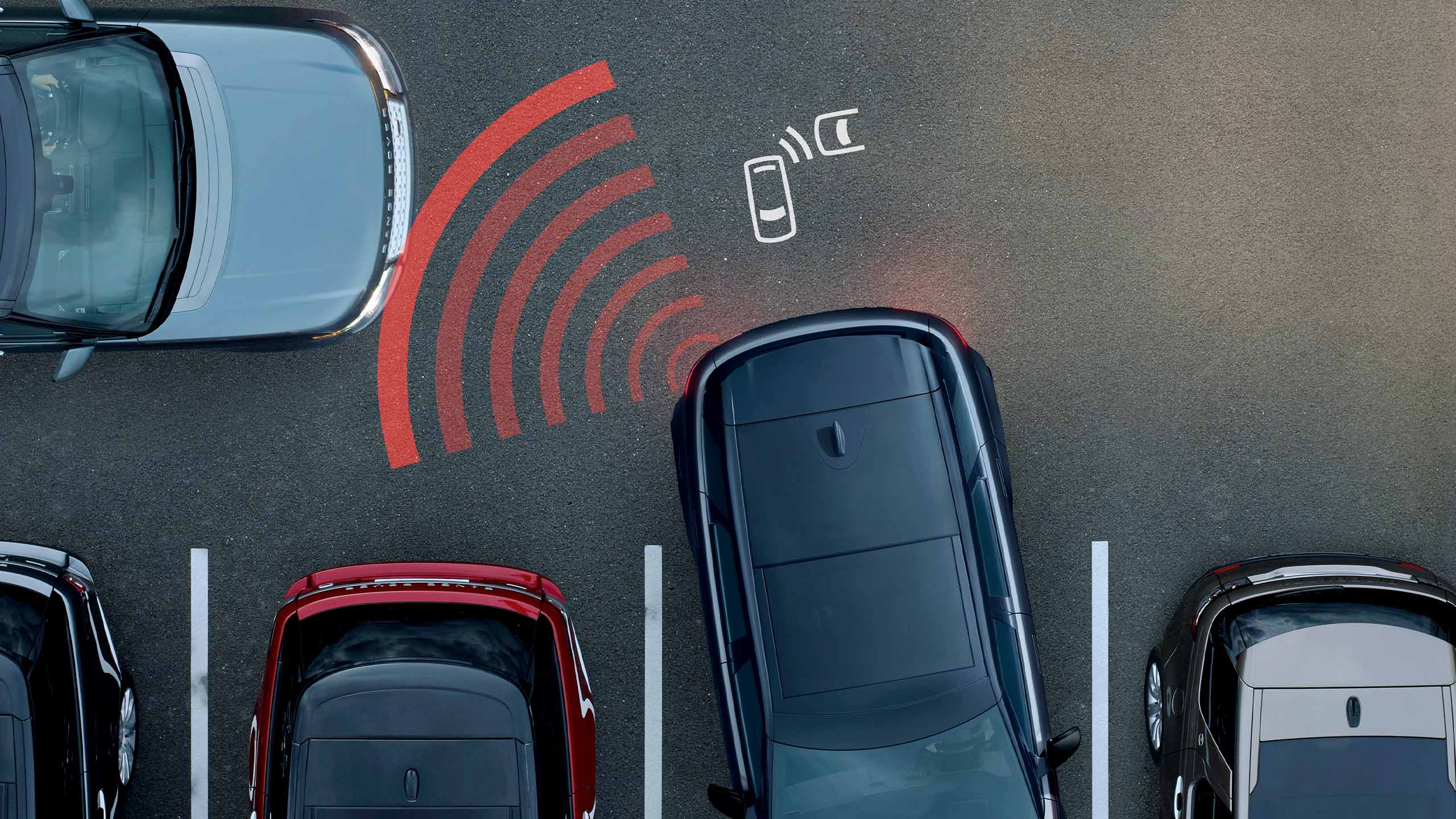 REAR TRAFFIC MONITOR
Rear Traffic Monitor warns you of vehicles, pedestrians or other hazards approaching from either side. Particularly useful when reversing out of a parking bay.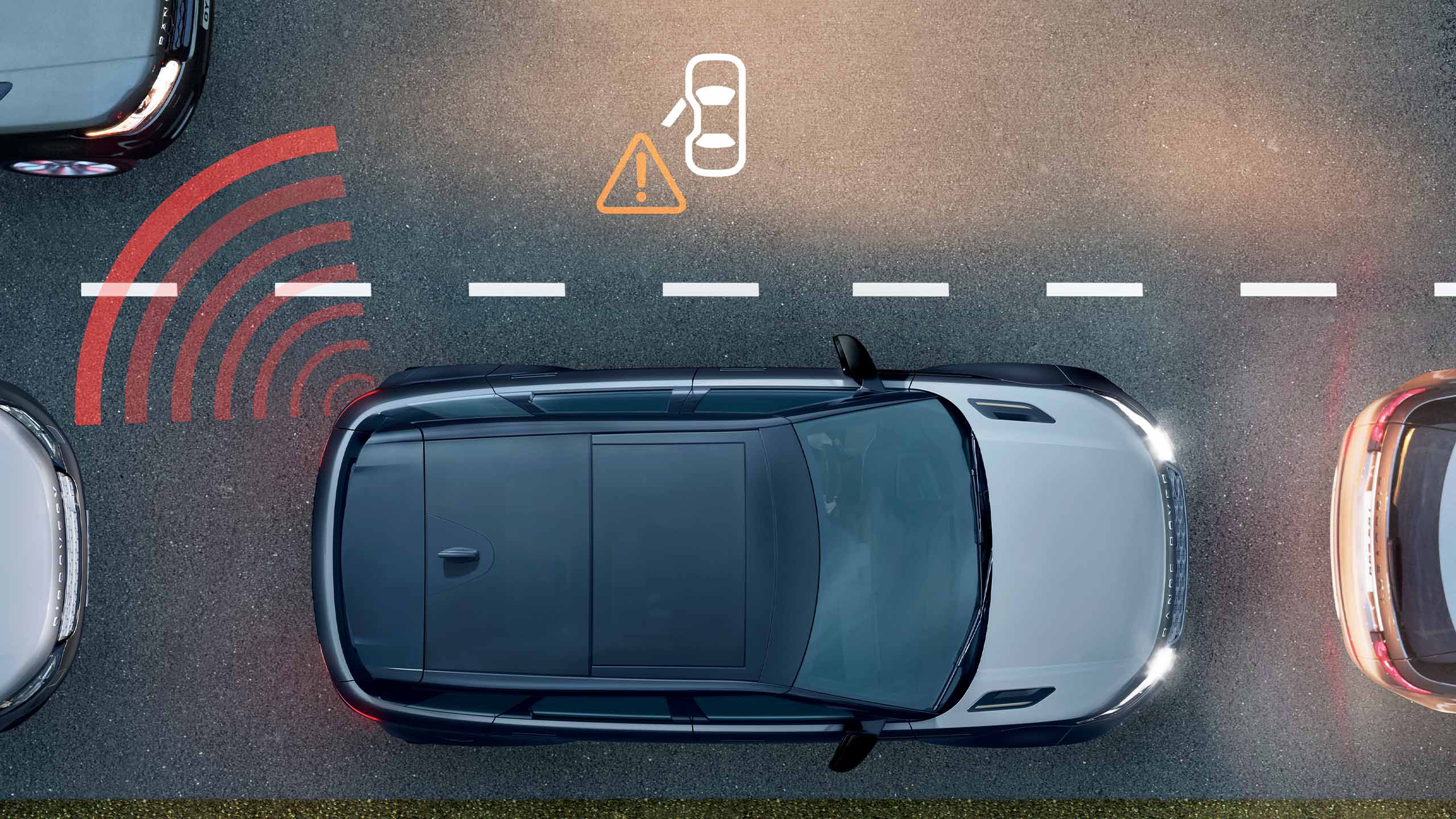 CLEAR EXIT MONITOR
Clear Exit Monitor helps passengers stay safe as they exit the vehicle by providing an illuminated warning in the door if an approaching hazard is detected, such as passing vehicles and cyclists.
BUILD YOUR OWN
Build your vehicle to suit your needs.
1Important: vehicles in GSR II markets and/or NCAP markets will revert to 'High' mode at every ignition cycle. In non GSR II and/or non NCAP markets, the selected driver assistance mode remains in the vehicle's memory and is not altered by an ignition cycle. Regardless of market, the driver-selected settings made in 'Custom' mode will be remembered by the vehicle. GSRII (General Safety Regulation II) is a safety legislation which came into force for new models in 2022 and will apply to already-launched models in 2024
2Blind Spot Assist can help prevent collisions. If your vehicle detects another car in your blind spot when you begin to change lanes, additional steering correction encourages you to guide your vehicle away if a potential collision is detected.
3Only available with Pivi Pro.
†For more information, please download and use the iGuide App.
Optional features and their availability may differ by vehicle specification (model and powertrain) and market, or require the installation of other features in order to be fitted. Please contact your local Retailer for more details, or configure your vehicle online.
In car features should be used by drivers only when safe to do so. Drivers must ensure they are in full control of the vehicle at all times.